What are Indian meal moths?
An Indian meal moth is a type of pantry pest. They are a common intruder of food preparation and storage areas.
Adult Indian meal moths have an oval-shaped body and uniquely colored wings. The front half of the wing is brown or cream-colored while the back half of the wing is darker bronze in color. They are active at night and fly in a zig-zag-like pattern.
Indian meal moth larvae are about 1/2 inch long. They have a brown head with a worm-like body that ranges in color from pink to yellow to green. The silken webbing they create on the surface of the food they eat distinguishes this pantry pest from others.
Indian Meal Moth Frequently Asked Questions (FAQs)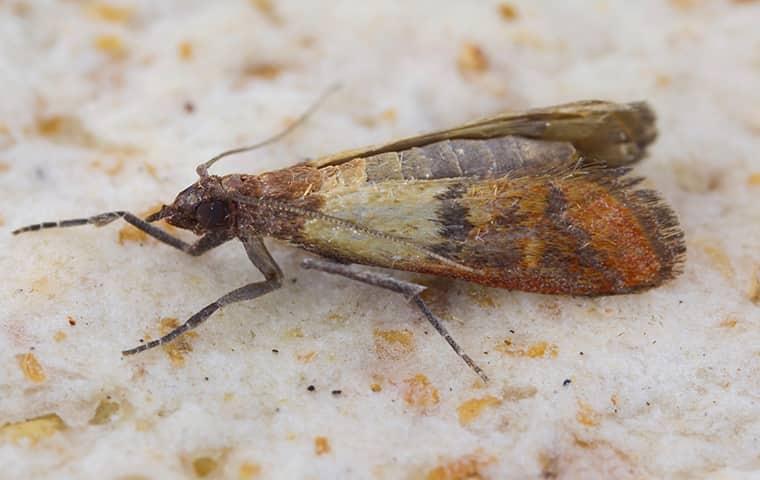 Are Indian meal moths dangerous?
The caterpillar stage of the Indian meal moth is responsible for most of the damage caused by this pest. Adult females lay their eggs on top of an appropriate food source - usually stored dry goods. Once the larvae hatch, they feed on the provided food. As the larvae feed, they contaminate the food with saliva and excrement.
Why do I have an Indian meal moth problem?
Adults do not eat. Their sole mission in life is to breed and find a spot to lay their eggs. Indian meal moths become a problem inside of homes after hitchhiking in already infested drygoods or finding entry points around doors or windows. Once inside, they quickly lay their eggs on top of a suitable food source.
While they are able to enter inside of homes on their own, the most common way Indian meal moths move inside is in already infested dry goods purchased from the store. An Indian meal moth infestation often first develops at a food packaging or processing plant. By the time the infested food makes its way into your home, the eggs have hatched and an infestation develops within your home.
Where will I find Indian meal moth?
Indian meal moth larvae feed on dry goods. Pantry pests make themselves at home in any area of a home or business where you prepare or store food. Kitchens, pantries, and basements all may be home to Indian meal moths.
Adults inside of a home frequently rest on walls or window sills.
How do I get rid of Indian meal moths?
If you have discovered adult Indian meal moths in your home, it is best to consult with a pest control professional. At All-Safe Pest & Termite, we offer the pest control services you can count on to eliminate these pests using the least amount of product possible - providing you with both peace of mind and a pest-free home! Discover why your neighbors choose All-Safe Pest & Termite to protect their homes and businesses from Indian meal moths and our area's other common pests. Give us a call today!
How can I prevent Indian meal moths in the future?
Prevent problems with Indian meal moths by partnering with All-Safe Pest & Termite and by implementing the following prevention tips:
Inspect food packaging for holes or tears before buying them from the store.

Remove dry goods from the original packaging. Place the dry goods inside plastic or glass air-tight containers.

Clean out the pantry, and get rid of old or expired items.

Wipe down crumbs from counters and tables.

Place discarded dry goods in outdoor trash containers with a locking lid until it is trash pick-up day.

Replace torn screens, place weather stripping around windows and doors, and keep doors and windows closed to help prevent problems with Indian meal moths.

Keep outdoor lights turned off whenever they are not needed.