What are rover ants?
Rover ants are not native to the United States. Since their introduction in the 1970s, this species of ant has spread throughout the southern portion of the United States. They are a common pest problem that people living in Dallas deal with on a regular basis.
To the naked eye these ants looking like most other ants you come across. Adult workers grow to between 1/12th and 1/16th of an inch and range in color from pale yellow to a darker blackish-brown. Upon closer inspection, you can distinguish rover ants from other species using the following physical traits.
Rover ants have a nine-segmented antenna as opposed to a twelve segmented antenna like most other ants.

Compared to the size of the head rover ants have very large eyes.

The rover ant's thorax is "humped."
Rover Ant Frequently Asked Questions (FAQs)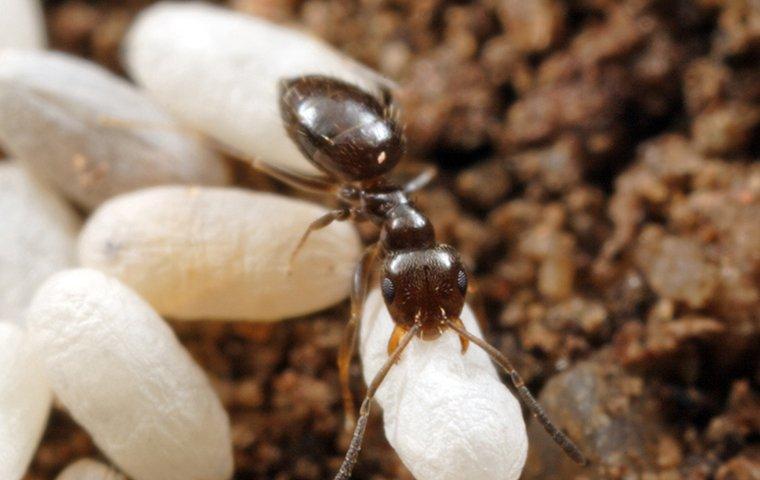 Are rover ants dangerous?
Rover ants aren't known to cause structural damage nor do they bite or sting people. While rover ants are not a particularly dangerous species of ant, they certainly are an annoying one. Rover ants do not hesitate to move into our indoor spaces to nest or forage for food and once inside are difficult to get rid of.
Why do I have a rover ant problem?
Rover ants have high moisture needs, and if the weather during the summer months becomes too hot or dry, they seek indoor shelter, building nests near areas of moisture. They enter inside through spaces in the foundation, gaps under doors, loose siding, vents, and holes along the roofline.
These ants, like most other pests, are most problematic on properties that offer them plenty of places to forage for food. Trashcans, recycling bins, pet food bowls, gardens, and outdoor eating areas all draw rover ants to a property.
Where will I find rover ants?
It is common to see populations of rover ants in the same places there are high populations of people. They like to take advantage of the food and shelter we provide them. These ants are also attracted to areas of moisture.
Outside they nest in or under:
Mulch

Trash

Leaf piles

Woodpiles

Brush piles

Overwatered garden areas

Areas next to pools
Inside they nest in:
Kitchens

Bathrooms

Laundry rooms

Basements

Potted plants
How do I get rid of rover ants?
The stress-free way to eliminate rover ants from your Dallas, Texas property is to partner with the local experts at All-Safe Pest & Termite.
Locally owned and family operated, All-Safe Pest & Termite is the best choice to get rid of rover ants from your home or business. We offer fast response times and peace of mind knowing that your pest problems will be solved, and they won't return.
Our experienced professionals provide top-quality pest control services through our residential and commercial pest control programs to keep rover ants and other pests at bay throughout the entire year. Discover why your neighbors choose All-Safe Pest & Termite for their pest control needs. Contact us today to schedule your free estimate!